The founder has also tapped Luminis Partners to seek new capital for the business as it embarks on a plan to build more permanent galleries and expand its touring exhibitions in a post-pandemic world.
"I just want to see more people around the world engage in art and culture," Peterson says. "I think COVID has shown us we're in a much better place when we've got art and culture in our lives, and to expand at the rate we want to expand, it's going to require investment."
Peterson started his career as a PE teacher before a stint in the pharmaceutical sector. A gap year at the age of 29 led him to decide to strike out on his own. He started, sold and closed several businesses before a stint marketing big events saw him licensed in 2006 to bring an exhibition of Da Vinci's machine inventions to Australia.
He didn't believe the exhibit was as good as it could be and saw the potential to do something bigger on da Vinci's work. So, he uprooted his wife and three children and moved to Italy to chase the idea of building an artefact-based da Vinci exhibition.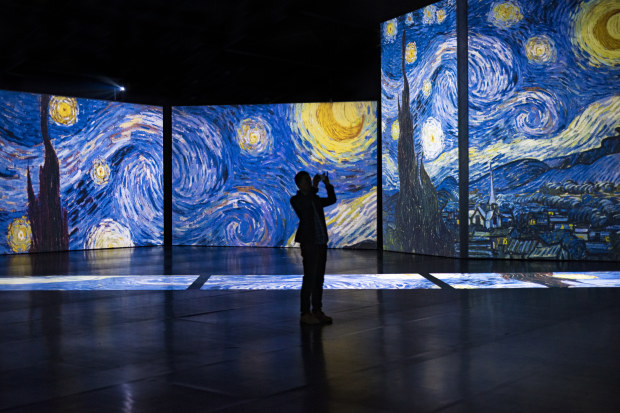 Van Gogh Alive will be the first exhibition in Grande Experiences' permanent Melbourne gallery, The Lume.  Grande Exhibitions
But as he dragged his family around Italy's famous galleries and museums, he kept getting a familiar tug on the sleeve – the kids were bored, and gelato was much more attractive than art.
"It took a little while to get it out of the kids as to what the issue was for them, but they just weren't engaged," he explains. "I'm a teacher from way back, and the lesson I learnt was that if you want to educate someone, you need to engage them. And if you want to engage them more, you've got to entertain them."
By 2009, Peterson's plan for a multimedia exhibition was born. It took two years to build a technology system (which Grande Experiences calls Sensory4) that would create the sort of immersive experience Peterson had in his head, harnessing multiple projectors, multiple screens, music and other elements.
The exhibition system also had to be portable, able to be packed up into two shipping containers, sent around the world and then set up in a new city within seven days.
In 2011, the first showing of Van Gogh Alive was held at Singapore's ArtScience Museum. Grande Experiences was officially off and running.
The business has grown rapidly since and is now capable of staging 16 separate exhibitions once. To minimise Grande Experience's risk, Peterson will either licence a show to a local partner (typically an art gallery, a venue or an entertainment company) or co-produce it in a joint venture.
Different partners have different skills and different needs, he says; an art museum is more focused on the content of the show, while an entertainment company has local marketing know-how.
Securing the content for shows has been another challenge. While art by da Vinci, van Gogh and Monet is no longer protected by copyright, Grande Experiences worked for five years to get the Salvador Dali Museum in Florida to secure its permission to use the famed absurdist's work.
Peterson says that, in the end, his pitch to museum director Hank Hine was simple. "I said, 'Hank, if Salvador Dali was alive today, do you not think he would be working in this digital medium?'"
Grande Experiences has also developed shows based on Indigenous art and street art. The latter group has proved particularly difficult to track down, with some only willing to speak on untraceable phones.
Peterson says COVID-19 initially hit the group hard, with the exhibitions it was running in early 2020 suddenly closed. But in countries where lockdown restrictions were light enough to allow venues to stay open, he knew he had to fulfil his contractual obligations or face big losses.
Over the course of a month, his team found a way to do something Grande Experiences had never had to do: set up a show remotely. The first was in Taiwan and the second in Norway. Peterson says that while the experience was painful, it was also formative.
"We have just proven how reliable we are as a company and how innovative we are as a company by doing what really was perceived to be impossible."
COVID-19 has also delayed the launch of Grande Experiences' next big growth phase: permanent galleries called The Lume. The first, at Indianapolis museum Newfields, opened in June, but Peterson is clearly buzzing about opening The Lume in his home town of Melbourne in November, with Van Gogh Alive as its opening show.
Peterson says a permanent gallery allows Grande Experiences to do things it can't do with travelling shows, including integrating food and beverage outlets in the midst of the exhibition, and more opportunities for corporate sponsors. (The Lume will open in Melbourne with carmaker Lexus as its partner.)
Grande Experiences has a list of countries where it would like to establish permanent galleries, including the US, Britain and Asia; the group's latest exhibition in Beijing sold its first 50,000 tickets via TikTok and Peterson says demand in the region is strong.
But he knows balancing this ambition with growth in travelling exhibitions will require capital. To his credit, he's keeping an open mind about what that looks like – it may mean taking on investors, or there could be a strategic buyer or private equity firm that could pull Grande Experiences into a bigger business.
"We often talk about the fact that what got us to here isn't what gets us to there," he says. "The scope of what we're doing is so enormous, the addressable market is the entire world, with cities over 500,000 people, it's something beyond what I think I can handle on my own."
Suffice to say, Peterson's kids aren't bored with dad's art shows any more. But they remain important critics, keeping Grande Experiences in touch with the one group he says some in the art world can forget at times: the visitor.
"If we leave it to middle-aged men like me to determine what and how we do things, I don't think it would be as successful. We're really just focused on the visitor."